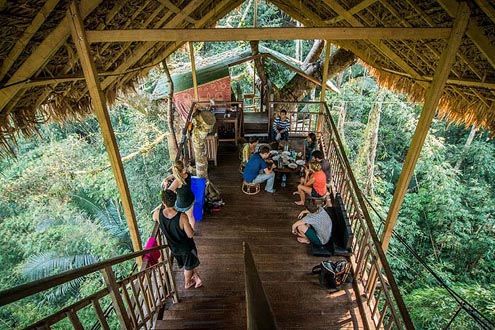 The Gibbon Experience is a tourism-based conservation project. It is mainly known for its canopy set-ups featuring incredible tree houses and ziplines.
We believe a canopy-level tree house is a great nature observatory and a privileged spot to meet new friends – locals or foreigners – far removed from ethnic oddities and related clichés.
By visiting our setup, worldwide travelers discover their passion and show their support for forest conservation.
This effective way of creating visibility and raising awareness has great potential to help preserve nature hot spots in other parts of the world.
When The Gibbon Experience opened in 1996, it was the first project of its kind. In 2003, we invented the zipline system with gravity access to the canopies. Many similar projects have emerged all over the world since then, and we are excited to see many beautiful projects.
However, several "amusement parks" operating under names similar to The Gibbon Experience have appeared in recent years in Southeast Asia. We believe the intention of some of these is slightly different from ours.
Although we offer a breathtaking, exhilarating experience, seeking out the most spectacular kicks and thrills is not our main aim. We want to comfortably and safely bring you to places that are otherwise very difficult or impossible to access, and connect you with this extraordinary realm of nature while protecting the forest and its wildlife.
It's all about equal benefits for the visitors, the forest, and its inhabitants.