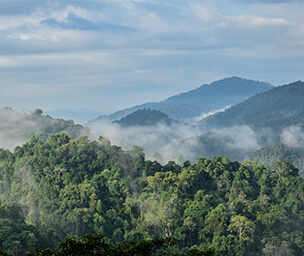 The Honeymoon Gibbon Experience (3d-2n) is one of the best option to spot gibbons.
The Honeymoon Tree house is for couple (2 persons) willing to have a more primate Gibbon experience.
You will sleep in the newly refurbished tree house 2, our smallest tree house.
The Honeymoon Tour is located on the Classic Tour therefore the program is the same (cf below).
-----------------------------------------------------------------------------------------------
The Classic Gibbon Experience is the best option to spot gibbons. It is also our easiest trek, with one hour of reasonably hilly access walk. You will choose how you want to spend your time, there is no strict schedule, food will come when you get hungry, and the guides will escort you to your tree house and around. This option usually enables gibbon encounters with little effort. Up to three groups of eight people depart on alternate days soon after 8 a.m. for three days and two nights in tree houses scattered within the Nam Kan National Park.
In the rainy season (most especially from July 15th till October 1st) guests to the Gibbon Experience should be in good physical shape as the trek is challenging, and be prepared to have a wet and muddy trip. Parts of the tree houses may also be wet and not as clean as we would like them to be. Finally, the time actually spent in the canopy will be shorter than in the dry season as a result of longer walks.
The initial walk to your tree house could theoretically take up to five hours because on certain days, the car will not make it to the end of the road. This extra walk actually happened twice during 2016 rainy season but not in 2017.
Still, the rainy season is the best season to discover the diversity of colors, sounds and wild species of the Bokeo National Park: those who choose to join are always rewarded.
Searching Availability...