We build tree houses as high as we safely can so that your room directly overlooks the forest canopy. Different designs are possible; we have worked on three types of tree houses :
Tree houses suspended on rope wires
Tree houses set on wooden consoles
Geodesic polyhedron laid in the fork
The choice of construction type depends on the tree structure, shape and situation. Each construction is a new challenge because trees are just as different from one another as people.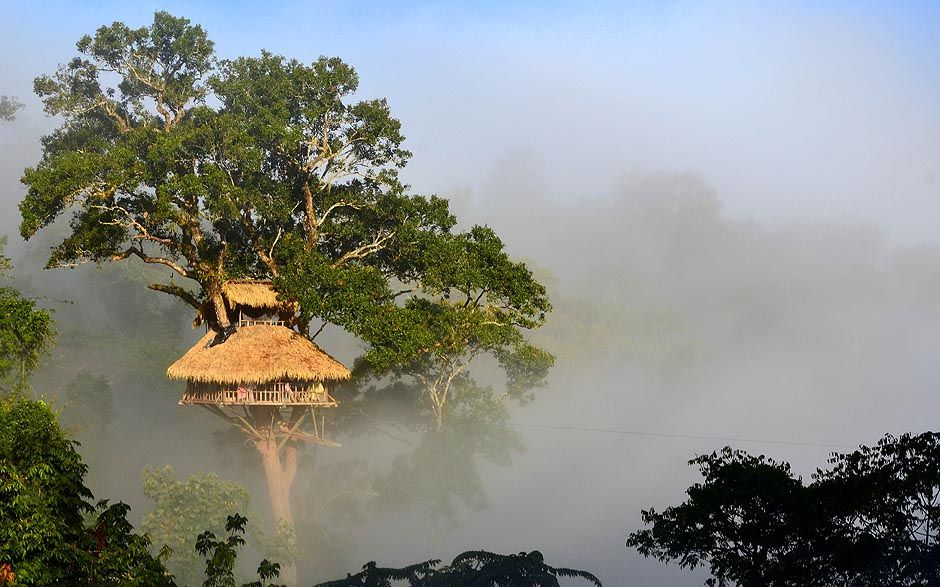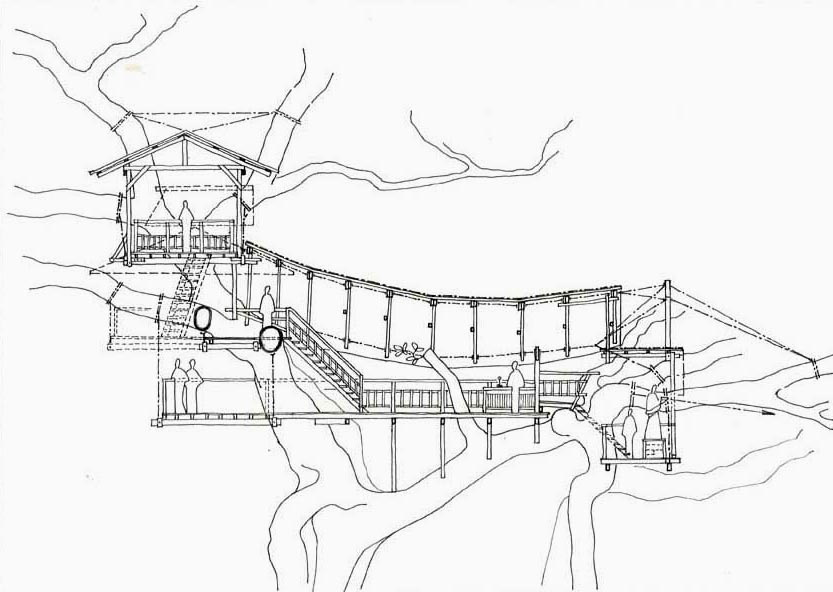 Suspended treehouse (lateral view)
Suspended treehouses are very exciting to build. They are typically composed of several platforms suspended at different heights on strong boughs growing quite flatly outward. In case your host tree is a giant strangler ficus, you may end up with surprisingly large surfaces.
It's a good idea to use pre-constraining cables to distribute the weight of the various platforms so as to exert forces coaxially and inwardly onto the branches. Ideally, forces are directed to only apply linear compression through the branches, towards the trunk and down to the ground.
Suspended structure detail : rosewood beams and steel rope wires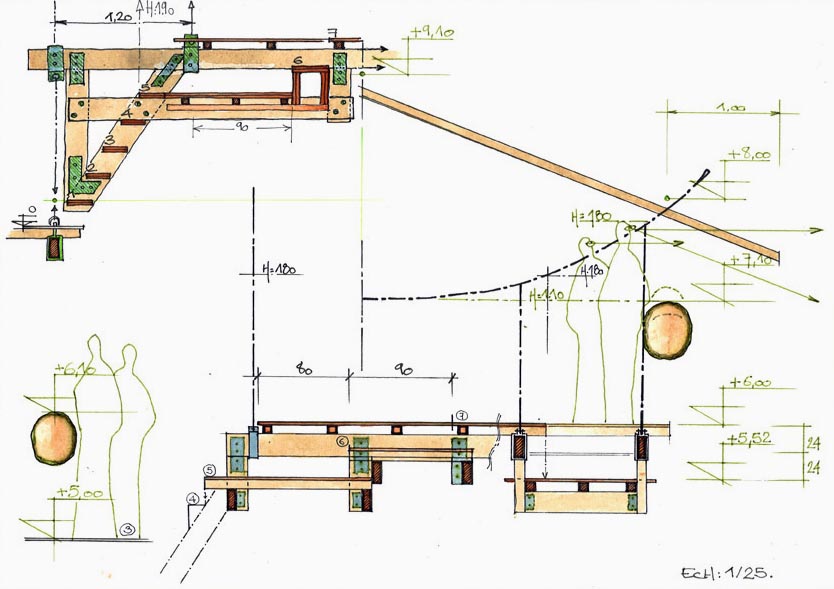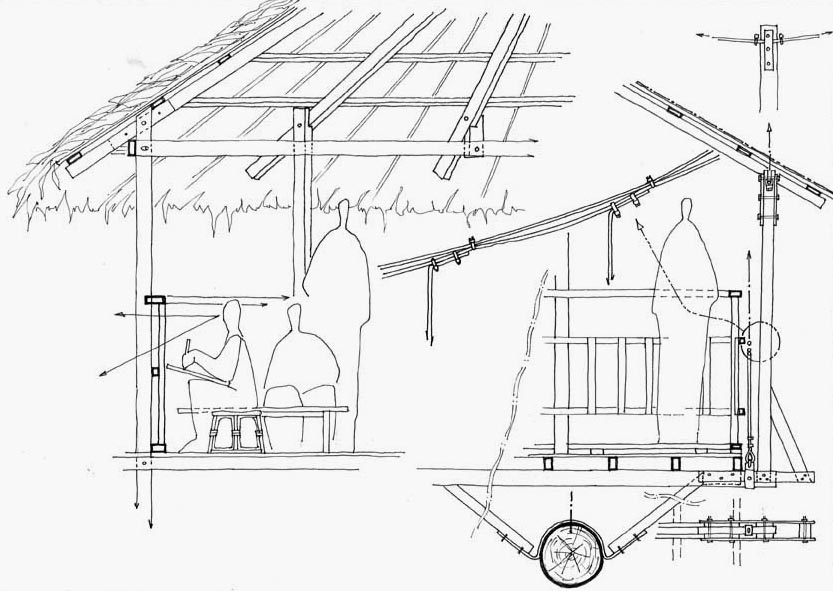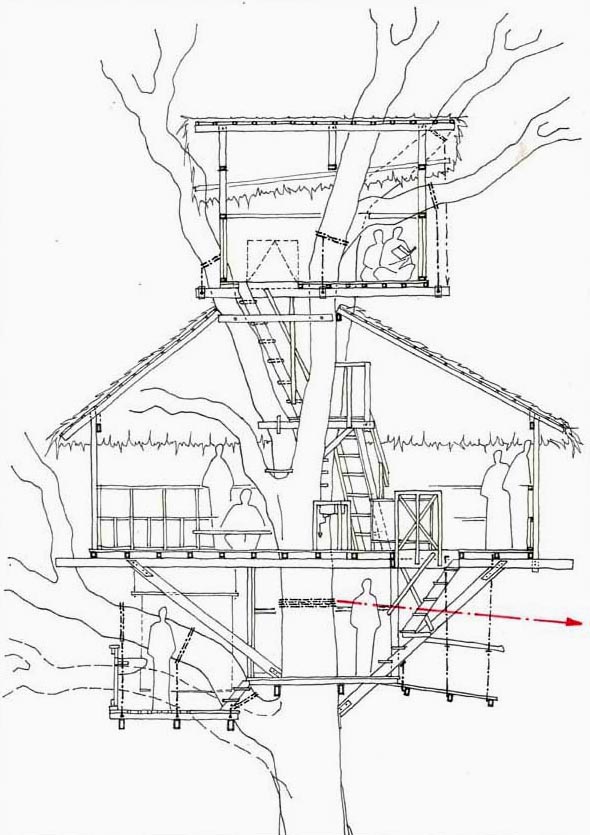 Tree house set on wooden consoles (lateral view)
This type of construction usually circles around the tree, following an octogonal shape, with a combination of several floors. Here's an example of an efficient room distribution: entrance and exit cables join where the landing platform stands. At this level, a circular corridor surrounds the trunk, allowing passage in and out of the tree house and providing access to the bathroom and the stairway that leads to to the main platform.
The latter consists of a kitchen area and a living room that turns into a series of semi-private rooms for the night. A railing runs all around the main platform for safety and to optimize the view. Another stairway leads to the more private canopy room.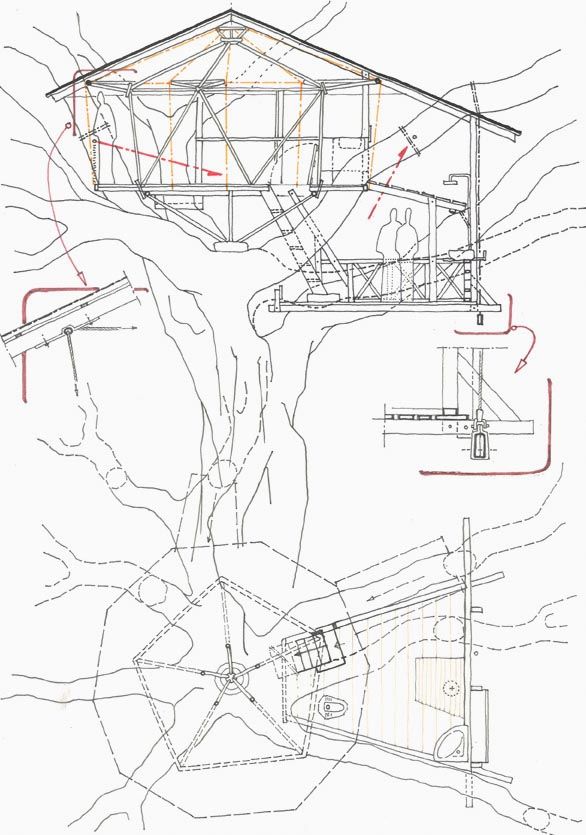 Tree house with a duralumin geodesic polyhedron core (Ikos)
The icosahedron was pre-engineered by our friend Gilles Ebersolt. A regular polyhedron is composed of 20 equilateral triangles and quick to assemble. We extended it with several suspended platforms, including a bathroom. The biggest challenge lies in finding a tree with a crown providing sufficient space to accommodate the structure.
How to Build Your Treehouse at Canopy Level ?
Select your tree wisely. You will spend the next 3 to 6 months busy up there so you should make sure your host is the most appropriate in your area. A strong root system, a balanced trunk, healthy boughs, absence of hollow or major insect colonies, proximity to water supply and wildlife, and last but not least a great view… In the forest, you may not necessarily recognize your perfect tree at first sight. Climbing a few tall trees will give you a clearer picture of the surrounding canopy and you have a good chance to spot your tree from those lofty heights!
Are you determined to go further? Great. Just send us a note with a few pics, we may have a few tips for you 😉